Ready to give your southwest living space the ultimate makeover? Whether you're all about channeling a modern farmhouse vibe or something more classic and adobe-inspired, there are plenty of stylish southwest details that can bring timeless charm. Read more on what types of southwest décor are in style today and how to incorporate these trending details into your home.
Embrace the 'Boho' Look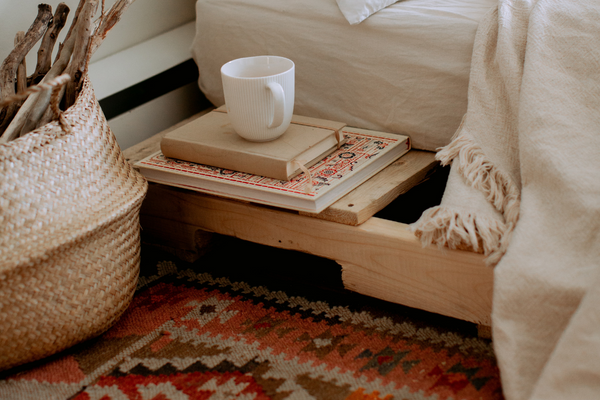 What does boho mean? Boho is short for Bohemian, and it's all about mixing up different styles and textures. The bohemian look often includes bright colors and patterns. This look can be a great way to add interest to a space that might otherwise feel too traditional.
Take advantage of boho throws and pillows to create an inviting space that can easily transition from day to night. Add warmth with glowy bronze and copper, braid tassels, or oversized pendants to complete the boho vibe in your southwestern-styled home. Step outside of your comfort zone, mix up textures and colors, and get creative in creating a bold southwest style perfect for any season.
Related Article: The Origins of Turquoise
Earth Tones and Neutral Base
When it comes to southwestern décor, earth tones are always in style. These colors create a calm and inviting atmosphere and emphasize southwest traditions and cultures such as pottery, southwestern textiles, and clay roofs.
Whether you're accenting an already existing home or creating one from scratch, incorporating earth tones and a neutral base can tie any southwestern room together.
Consider Using Indoor Pottery like Clay Pots or Vases
Another great styling tip is to consider snagging a couple of clay pots or vases and getting creative with them. Not only are they durable and inexpensive, but you can easily customize your own look by painting fun colors or patterns on each one. You'll love having these custom pieces in your home - think how much conversation they could start during parties!
Read More: How To Make a Clay Pot
Incorporate Some Geometric Patterns
One of the easiest ways to get started in the southwest style is by incorporating some geometric patterns. Not only do these types of decor pieces feature beautiful designs with a strong Spanish influence that will bring out your southwestern style, but they also create interesting visuals and add texture as a finishing touch.
Geometric patterns put together in southwestern decor add to the visual interest of the entire space and make it stand out – it could be a single piece of furniture or an entire living room. Patterns like this can cross over many medium types, from textiles to rugs, furniture, and even wall art.
Showcase Wool, Cotton, and Woven Materials
Get creative and give your room a totally new look with Southwestern-inspired fabric textures. Weave in centuries of culture by layering warm wool animal skins, cozy cotton fabrics, and vibrant rugs to make the space super inviting. For an earthy yet modern vibe – think natural hues mixed with multicolored weaves for an interesting contrast.
So if you're going for a bold southwest look or just something subtle and rustic, these items will fit in - making them an essential component of any southwestern-inspired home decor.
Summary
Southwest style is all the rage, so make sure your home looks amazing with some chic pieces from Lone Star Western Décor. No matter what you're into, they have the perfect southwestern pieces to complete the job and make sure it looks great. Time to get shopping - let's lasso up some southwestern flair!