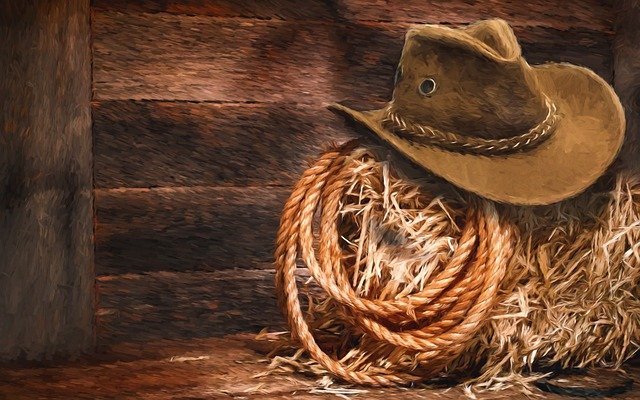 When it comes to all-American aesthetics to inform your home décor, you can't get much more classic than the Wild West.
This style translates extremely well to kids' crafts geared toward simply having fun and being creative, rather than specifically putting together a piece of décor for a space (although many parents use their kids' crafts for just that!).
Looking for an entertaining Western-themed craft idea for your kids or a creative home décor tip for adults who want to give their interior design a Western sensibility? We've got you covered on both sides of the spectrum with some cheap, easy Western crafts for kids and adults of all ages.
Cowboy/Cowgirl Paper Bag Vest
A game of cowboys isn't complete without the proper attire, but you may not have the materials to make traditional cowboy or cowgirl garb. Luckily, a paper bag vest looks just as convincing as the real thing and costs next to nothing to make!
Take a paper bag and cut it down the center from top to bottom. Cut armholes on either side and a hole on the bottom connected to the front opening for the neck. (Feel free to use your little cowboy or cowgirl as a model to make sure your arm and neck holes are the right sizes!)
Once the paper bag vest is properly fitted, your kids can spend hours decorating their cowboy or cowgirl vest to their liking with crayons, yarn, buttons, and more.
Edible Cacti
This craft is great for adventurous kids or adults who are throwing a Western-themed party that needs some kooky, theme-appropriate decorations. With this craft, you'll be able to simulate the classic cacti of the Wild West without bringing any real prickly plants into your home. Ouch!
Simply cut two cucumbers about an inch from the ends and place them on a plate vertically balancing on the cut ends. Then, cut up lots of dry pieces of spaghetti (about half an inch to an inch long will do) and stick them into the cucumbers one by one. Your kids will have a blast helping you with this step!
Once you've inserted all of your spaghetti pieces, you'll have some fun decorative cacti to bring that playful Wild West feel no matter the occasion.
Rope Coaster
This craft is great for any age, as it's lots of fun for kids, but also super useful for adults. Every coffee table needs a good coaster, and if you're looking for a bit of a Western feel in your space, try a rope coaster on for size!
Cut out a felt circle approximately the size that you want your coaster, and then hot glue the end of a piece of long, thin rope to the center. Slowly curl the rope around the center, hot gluing as you go, until the felt is completely covered with swirling rope. Stylish and totally useful!
In Conclusion
Kids and adults alike can have fun with the Wild West aesthetic. Try out some of these fun, easy crafts to get into the cowboy spirit!