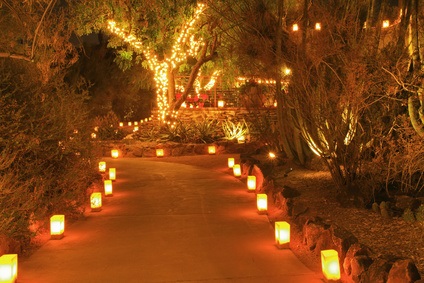 The Southwest United States is an incredibly unique region that has a culture to match. Many who don't know the area might well mistake the culture for something similar to what is found in Northern Mexico or other nearby states, but the truth is that something completely different and vibrant exists in the Southwest.
It makes sense, then, that the Christmas traditions in the region are also unique. In fact, it's accurate to say that the residents of the area know how to inject a little bit of extra spice into their celebrations each December, which is why visiting during that time of the year makes for a special treat.
Food
There are some special foods from the Southwest that are associated with Christmas. One of the most beloved traditions is making tamales, which is often done in large groups. The tamales are made of masa, which is a dough made of ground corn, and are filled with different ingredients, such as chicken, pork, beef, green chile, red chile, and cheese. Before being cooked, each tamale is wrapped in a corn husk, which helps it stay moist during the cooking process.
Another traditional food is biscochitos, which are small butter cookies. When baked properly, they are crispy. What's unique about biscochitos is the spicy flavor, which comes from a mixture of cinnamon and anise seeds. They are traditionally in a fleur-de-lis, but can be made in a variety of holiday symbols.
Posole is another dish that is commonly tied to Christmas celebrations. It is a thick stew that features small pieces of pork, chile, and dried lime-flavored corn (posole). If posole isn't available, people use hominy. The result is a spicy dish that is pretty warming on a cold winter's night.
Many people are at least somewhat familiar with empanadas, which is a pastry often made during the holidays. They essentially are breaded pouches that can contain any number of items, from cooked fruit to pumpkin puree, custard, raisins, vegetables, and even meat.
Luminarias
One of the most dramatic components of Southwestern Christmas traditions is luminarias or farolitos. They are paper sacks filled partway with sand to weigh them down. A small candle is placed in each bag, and is lit on Christmas Eve night. The bags are placed at the edges of pathways as a symbolic lighting of the way for Mary and Joseph as they look for a place to have baby Jesus. Some luminarias are even placed on top of walls and buildings. While modern electric versions have been sold for a number of years, many people still opt for the more traditional setup. The modern luminarias lend themselves to repeated use each night, which allows people to put them on display from Black Friday all the way until Christmas or New Year's Day.
Another modern twist on luminarias is to use colored bags, especially red and green. Other people cut shapes in the bags, such as stars, Christmas trees, or even Nativity scenes.
Many cities throughout the Southwest put on luminaria walks at public buildings, old cathedrals, or even for entire historic districts. People can walk around tens or hundreds of thousands of luminarias as a way to get into the Christmas spirit. Many residents put out luminarias around their front yard on Christmas Eve, which makes driving through regular neighborhoods an even more vibrant experience.
The appearance of hundreds or thousands of the illuminated paper sacks lit by candles in some locations gives off a majestic feeling that is incredibly unique. It is said that the tradition started back in the 19th century. Priests would light small bonfires along the pathway to Christmas Mass as a way to guide people to the special worship. The symbol of what luminarias stand for came about since the bonfires were usually lit on the final night of the symbolic journey of Mary and Joseph to their final destination, called Las Posadas.
Crafts
Anyone who has visited much of the Southwest knows there are a number of talented artisans who create a wide variety of crafts reflecting the rich cultural traditions of the Southwest. These include items such as dream catchers, kachina dolls, jewelry, pottery, and sand paintings. Every holiday season, a number of art shows and bazaars pop up in various locations like churches, giving anyone who attends them the chance to purchase a special gift that will provide an unexpected surprise on Christmas morning.