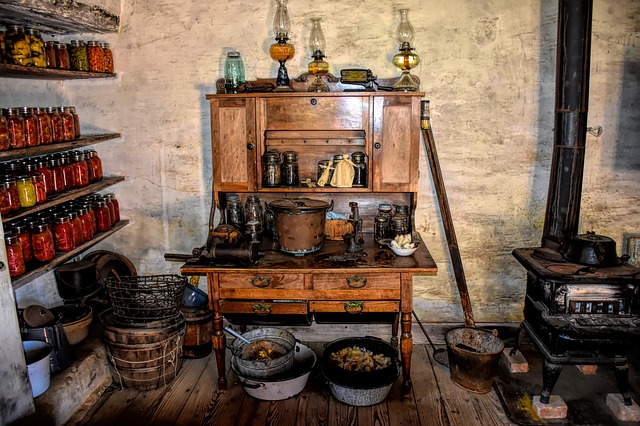 When people think of home decor, the living room, bedrooms, and even the bathroom are often the first rooms that come to mind. If you're looking to create a Western-style kitchen, however, it can certainly be done with a few essential decor elements.
Learn some ways to introduce Western details into your kitchen, from cabinet pulls and wall colors to accessories and floor coverings.
Western-Themed Kitchens
Bringing a bit of the romantic Old West see more about it into your home by decorating your kitchen in a western-themed motif can be fun, exciting, and very rewarding.
The Materials
Western-style kitchens use certain rustic, natural materials to bring a reminiscent aura to the home. The best materials to incorporate into this type of kitchen include options such as:
Stone
Wood
Iron
Earthly textiles like burlap
Leather
Faux cowhide
Mixing these materials with cowboy-related accessories and western-inspired colors can help you create a western kitchen that is unique and all your own. Focus on colors like off-white, caramel, sage green, dusty brown, soft yellow, and burnt orange.
Floors and Ceilings
Consider adding some natural wood beams to a plain kitchen ceiling to create a rustic log cabin-like appeal. You can even use faux wood beams to avoid the hefty price tag.
Reflecting the wood on the ceiling will be the floors. Choose hardwood floors with wide wooden planks in a natural finish to turn up the western influence. You could also opt for laminate flooring to get the look of natural wood without paying a fortune for it.
Windows and Walls
Using earthy tones on your kitchen walls will bring hints of western landscapes to the indoors. Take things a step further with faux painting techniques for texture to give walls the look of old, aged plaster. For wall accents, use nature-inspired decor. Choose one accent wall, and use reclaimed lumber, log planks, or stacked stone on it for a stand-out western-style feel.
Consider dressing your windows with lace curtains, often used in the Old West see more about it. You can use shutter doors or modern Roman shades in fabric prints that feature cowboys, cacti, or other western themes.
Cabinets, Lighting, and Accessories
An excellent idea for cabinetry is using natural pine cabinets with black wrought iron hardware. If you want to keep your current cabinets, you can paint them off-white with a weathered or distressed finish to create a rustic appeal. Use leather-upholstered bar stools or chairs in the room.
Nothing says "Old West" like an antler chandelier! Or, you could use pendant lights with cracked glass globes that hang from wrought iron chains. Decorate with accessories like black and white photos of horses, rustic cabins, figures of the Wild West see more about it, mountain landscapes, and similar images.
Make sure to use photo frames made of reclaimed wood. A big area rug in a chevron pattern, a wrought iron pot rack with cast iron pots and pans, and a simple vase of wildflowers on a country kitchen table will complete the look.
Creating a Western Style Kitchen
With a few changes to wall and ceiling color and decor, floor and window coverings, and some cabinets that reflect the Old West, you can have your own unique western-style kitchen without spending a huge amount of money to make it happen. Happy trails to you!